I am delighted to welcome you to the official website of St Fergus Parish, Forfar, which also includes St Anthony's, Kirriemuir, in the Catholic Diocese of Dunkeld, Scotland. In addition to providing information you might need about our parish, it will provide vital information on socio-cultural and religious events that take place around us and useful links to the Church and wider society. I hope that you will find it useful and informative.
Rev. Dr. Tobias O. Okoro
Parish Priest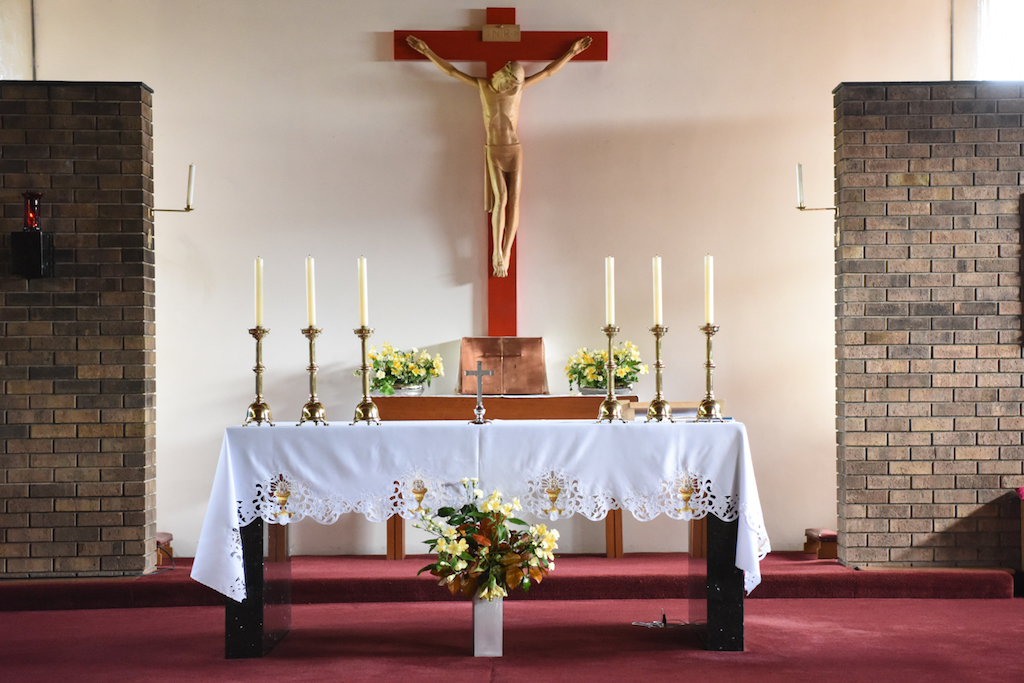 ---
The Catholic Church Forfar and Kirriemuir
Nearby the present Catholic Church in Forfar you can visit Restenneth Priory which was a monastic house of Augustinian Canons (priests) founded by Jedburgh Abbey, with the patronage of King Malcolm IV of Scotland, in 1153. Although there is little literary evidence, archaeological evidence strongly indicates that there was a monastery at Restenneth from very early times. There is also speculation that Restenneth may even have been the Pictish church dedicated to St Peter (mentioned in Bede) built in 710 for Nechtan IV, King of the Picts.
Augustinian Restenneth was always a small priory and very dependent on its mother-house at Jedburgh. In 1501 there were only two canons and an annual income of £120 (compare Arbroath Abbey, which had £10,924 in 1561). There was an attempt to incorporate it into the Royal Chapel in this year, but this failed to occur, and King James IV of Scotland suggested its incorporation into the archbishopric of St Andrews. This too evidently did not occur, as priors continue to be on record. Following the disruption of the Reformation in Scotland the priory was turned into a secular lordship for Thomas Erskine, Viscount Fentoun, in 1606. All except the tower is now in ruins.
In penal times, the Catholic Church continued, supported through Mass centres like those at Scalan at Glenlivet and at Stobhall, near Perth from where priests traveled around the country. In the late 18th century and early 19th century Catholic churches began to appear once again in Scotland's town and cities. In Forfar, Catholics established a chapel on the High Street, previously a Masonic Lodge, which they used from 1940 until the mid 1960's, when they built the present St Fergus' at Gallowshade in the town.
The present St Anthony's Kirriemuir was opened in 1987, replacing an earlier wooden church. Signs of Christianity dating from the earliest days can be seen across a multitude of Pictish stones in this area.
Fergus, was a Pictish Bishop, so it is generally considered he was from the north east of what is now called Scotland. In the Aberdeen breviary he is called Fergustian and "he occupied himself in converting the barbarous people." He is thought to have trained in Ireland or the south of Scotland, possibly both.
Known in the Irish martyrologies as St Fergus Cruithneach, or the Pict, the Breviary of Aberdeen states that he had been a bishop for many years in Ireland when he went on a mission to Alba with some chosen priests and other clerics. He settled first near Strageath, in Upper Strathearn, in Upper Perth, and erected three churches in that district. The churches of Strageath, Blackford, and Dolpatrick are found there dedicated to St Patrick. He next evangelized Caithness and established there the churches of Wick and Halkirk.
The church Fergus built at Glamis would have been in the Celtic "mud and wattle" style, not far from the present kirk. He may have been the Fergustus Pictus who went to Rome in 721, but such a contention relies solely on the similarity of a common name. He died about 730 and was buried at Glamis, Angus, where the recently restored St Fergus' Well can be visited.
The village church at Eassie is dedicated to St Fergus; the noted Pictish Eassie Stone has been moved to that church.