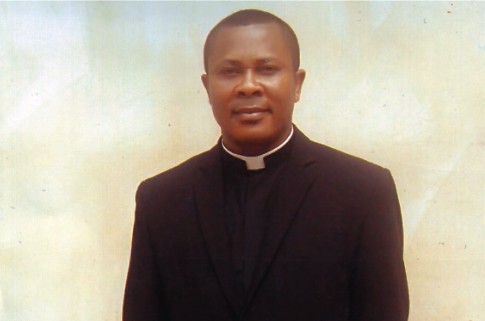 A Catholic Priest, Rev. Fr. Dr. Tobias Okoro has expressed worry over the neglect of rural communities in Imo State by those in authority.
Fr. Okoro, now parish priest at St Fergus', Forfar, and St Anthony's, Kirriemuir, in Scotland, has lamented (Feb 2014) the deplorable condition of his home community, Umualumaku Ehime-Mbano, Nigeria. As reported in 'The Leader', official newspaper of the Catholic Archdiocese of Owerri, he highlighted how his community, like many other communities in the local government area, lack basic amenities like access roads, electricity and other necessary infrastructure.
He was at a loss that those in authority fail the people by not attracting projects from the government. He wondered whose interest the elected officials and appointees are protecting? Fr. Okoro criticized contractors who fail to perform duly awarded contracts that would have alleviated the deplorable leaving condition of rural dwellers.
He was bitter that the affluent in the society display ill-gotten wealth while their people wallow in penury and abject poverty as they lack basic amenities like: Medicare, portable water, good road and constant electricity.
Rev. Dr. Okoro, son of the former Catechist of St Joseph Parish, Umualumaku, Chief Mathew Okoro enjoined all and sundry to put hands on deck so that the society is made a better place for all, he said.
Fr. Okoro implored the authorities to provide succour amenities and infrastructure that will make life worth living in the rural communities, he added.
Even before now Fr. Okoro had attracted many projects from his Scottish parishioners, first at St Bride's, Pitlochy and now in Forfar and Kirriemuir, for his native community.
Not long ago, a devastating thunder storm destroyed a section of Hill Top Model Primary School, Umualumaku, and the pupils and teachers had to teach and learn under harsh conditions.
When Fr. Okoro learnt of the precarious situation, he picked the gauntlet and solicited support from his parishioners who mobilized resources and reconstructed the collapsed School building with over Ten Million Naira. The passionate priest built a model six classroom blocks and furnished it with quality desks, sits and chalk boards. He provided a library, toilet facilities and office accommodation for the teachers and head master. Thus making the school a cynosure of all eyes.
In the past, Fr. Okoro constructed a water borehole which he donated to the Umuoparalum Community to help cushion the sufferings of the people who trek a long distance in search of potable water.
THE LEADER spoke with Rev. Fr. Tobias Okoro at his residence on what motivates his philanthropic disposition. According to him, what ever he has is given to him by people and as he has neither wife nor children, it behoves on him to help better the society and put smiles on the faces of people by giving out all he has.